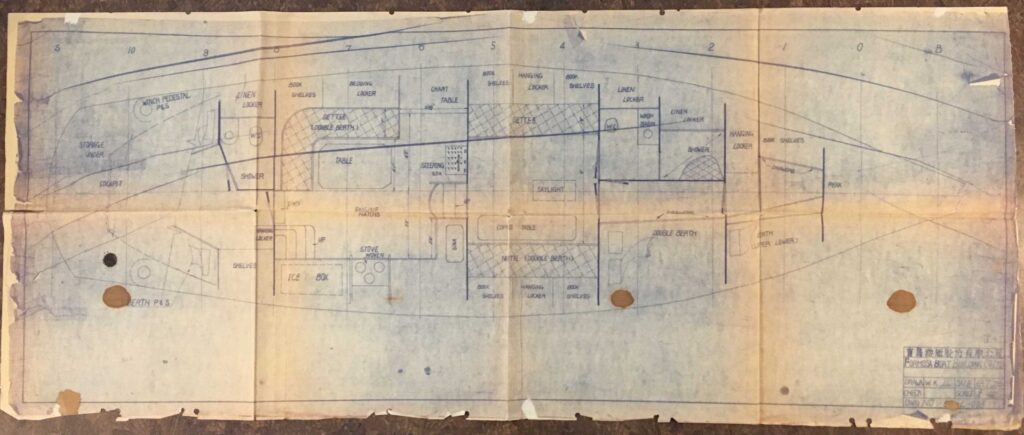 How did this all start? How did a traditional fifty foot ketch come to be made out of fiberglass?
These boats started as a dream by William Garden and Bill Hardin back in the 1950's. As far as I can tell the hull lines of these boats are based upon a William Garden 1954 Wooden Shoal Draft Cutter Rigged Ketch. Why do I not have a definitive answer? We are reaching back in time almost 70 years! Some research points to the Sea Wolf (Bill Hardin) as the original design or maybe even the Porpoise or Atom (both William Garden designs). What happened next was dumb luck or perhaps the free market at its best. The fiberglass boat building revolution of the 1960's and American Marine Architects all wanted to capitalize on a less expensive way to build better quality boats. Taiwanese traditional boat builders merged with American businessmen to pioneer the fiberglass boat building market. As early as 1963 the boat that was to be known at the Formosa 51 had blueprints (see above photo) and was being set up for production. Sister ships like the Mariner 40 (first built in 1965 in Japan) and the Sea Wolf 40 (built as early as 1960 by the Chen Family, latter to become Formosa Boat Works) had already begun the fiberglass revolution.
Traditional wooden sailboats all had full keels. The framing of a wooden boat prevented the development of a fin keel with a spade rudder large enough to control the hydrodynamics of a large sailing vessel. Naval Architects who experimented with fin keels 70 + years ago often used other materials. Even early fiberglass keelboats used a cut away with a skeg mounted rudder until they understood the strength of fiberglass. In my opinion the Formosa 51 is a piece of nautical history. This boat incorporated the best of William Garden's wooden sailboat designs and preserved it forever in a fiberglass build. These boats have survived the test of time. Many of these boats have circumnavigated the globe. Almost every boat that ended up in America was sailed here via the Pacific or the long way via the Atlantic Ocean. They have undergone unfair reviews by Sailing Purists who tried to compare them to more modern designs being churned out in the early days of fiberglass. This 50′ 11″ Shoal Draft Cutter Rigged Ketch was built as a Traditional Sailing Vessel – not a high performance sailboat. It was revolutionary for the time because of its lower cost, fiberglass build, shallow draft, ICW mast height and room for a family of four with space for additional crew if desired. All this and the original owner got to design the interior before purchasing the boat.
The hull proved to be so popular it was copied and duplicated by many different yards in Taiwan. The Formosa 51, Hudson Force 50, Mikelson 5o, and the Goldcoast Offshore 50 just to name a few.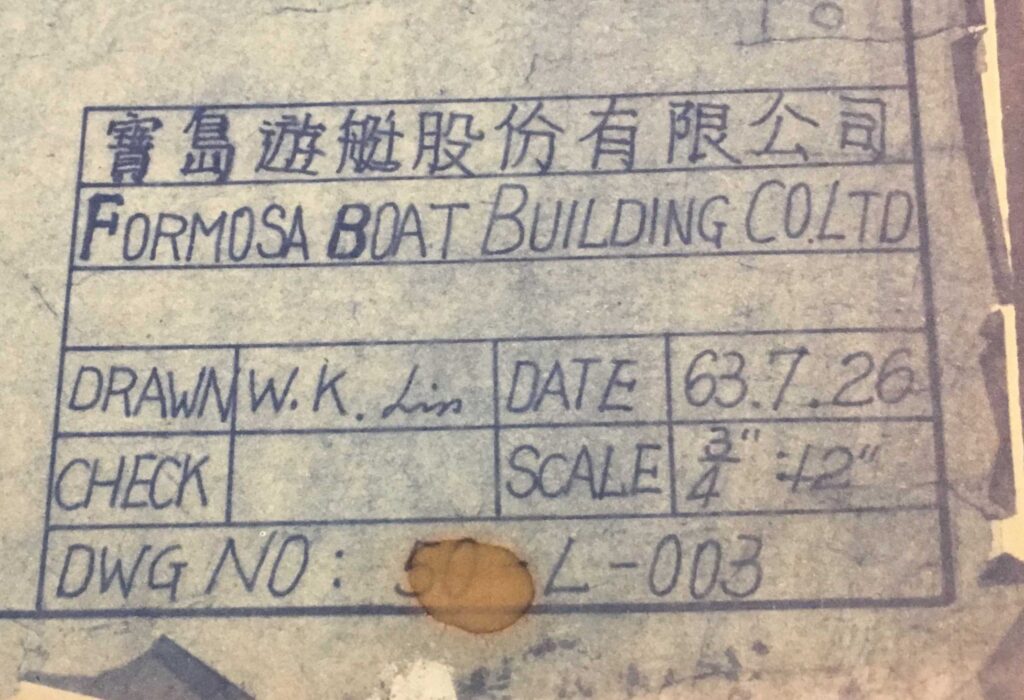 Cruising World Magazine September 1979
Our Formosa 51 being built in Keelung, Taiwan, in 1979